Husk Aspirator Machine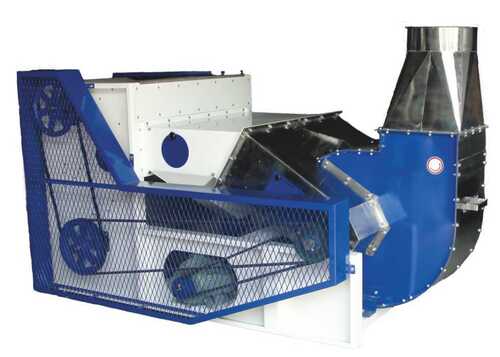 Husk Aspirator Machine
Product Description
Incorporating innovative technology, we are manufacturing and exporting Husk Aspirator Machine. Made by expert engineers, it separates husk from shelled rice efficiently. The body of the offered machine is made using top grade cast iron to assure its sturdy construction. It is not only featured with easy sampling of the husk, but also characterized by a separate hopper that collect immature grains. The plates of the blower are replaceable that assures its longer functional life. Husk Aspirator is ideal to use with following types of rice:

Raw rice
Para boiled rice
Boiled rice
Steamed rice
Basmati rice
Other details:
Technical Specifications
| | | |
| --- | --- | --- |
| MODEL | HA 3A | HA 4A |
| Capacity | 3.0 MT of Paddy / Hr | 4.0 MT of Paddy / Hr |
| power Required:KW/HP | 3.75 / 5.0 / 1440 rpm | 3.7 / 5.0 / 1440 rpm |
| Dimensions in MM (LXBXH) | 2500 x 1320 x 1380 | 2500 x 1320 x 1380 |
| Weight (Approx) | 400 kgs | 400 kgs |
RMPL features

Competitors features

Advantages

MS and SS body Aspirator

MS Body

Parts subject to Wear and Tear are built with SS - 202 grade.

SS 3.0 mm Impeller

MS Impeller

Longer life of the impeller

Reducer to blower outlet made of SS

MS reducer

Longer life of the Reducer

Special inbuilt cyclone

In Delhi based company there is no inbuilt cyclone.

Collection of immature grains in specially designed hopper.

Flopper adjustment.

In Delhi based companys there is no spl hopper

We can adjust the flopper as per the raw material and optimum air utilization

Easy sample checking and sampling of outgoing husk

In other company there is no checking and sampling of husk.

To calculate loss of grain

The main blower shaft is 2 With taper lock pulley

In milltec they use only 1 1/2" dia

Increasing performance of the cfm (cubic feet per meter).
Easy in maintenance. Avoid damages to other related components.

Low price

High price

Economy price when it is compared to other companys

Low power consumption

High power required

Low power is used when machine is running

Low maintenance and easy to operate

High maintenance

Very low maintenance. Easy to operate.